Jesus on the Cross: a Baroque masterpiece in the Church of San Pedro
This is without doubt one of the world's finest Baroque sculptures.
The statue is the work of the master Juan de Mesa, who was born in Cordoba but later settled in Seville. It was commissioned by the Señor Juan de Irazabal.
It portrays a larger-than-life Jesus dying on the cross, with the drama of the moment being reflected in the tension on the body. This is a stunning wooden figure presented as a free-standing statue, of extraordinary beauty, which provides a detailed study of the human anatomy and takes realism to its utmost expression.
This Cristo de la Agonía – Jesus on the Cross stands inside the Church of San Pedro de Ariznoa, in a Baroque chapel located below the choir, at the foot of one of the temple's naves.
Note: If you want to visit the Christ, please call to make a prior appointment, as the church is not always open.
Parish of San Pedro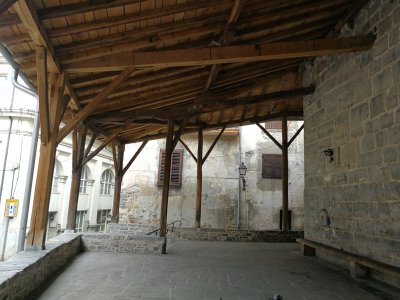 This magnificent building is a reflection of the town's urban development and social evolution.
Its interior is remarkable not only for its spaciousness. The temple houses stunning art treasures: the globally renowned and universally acclaimed Cristo de la Agonía – Jesus on the Cross, by Juan de Mesa, a Baroque masterpiece; the Flemish altarpiece of St. Michael; the  painting "The Adoration of the Shepherds", a fine example of 17th century Neapolitan chiaroscuro; Major works of art, in a major church.
Nor should we forget the Romantic organ built by the Stoltz-Frères company, which was donated to the church in 1889, and is now the only one in the world that still survives in its original state.
Atala:
Ezagutu beharrekoak (erdi aldean)